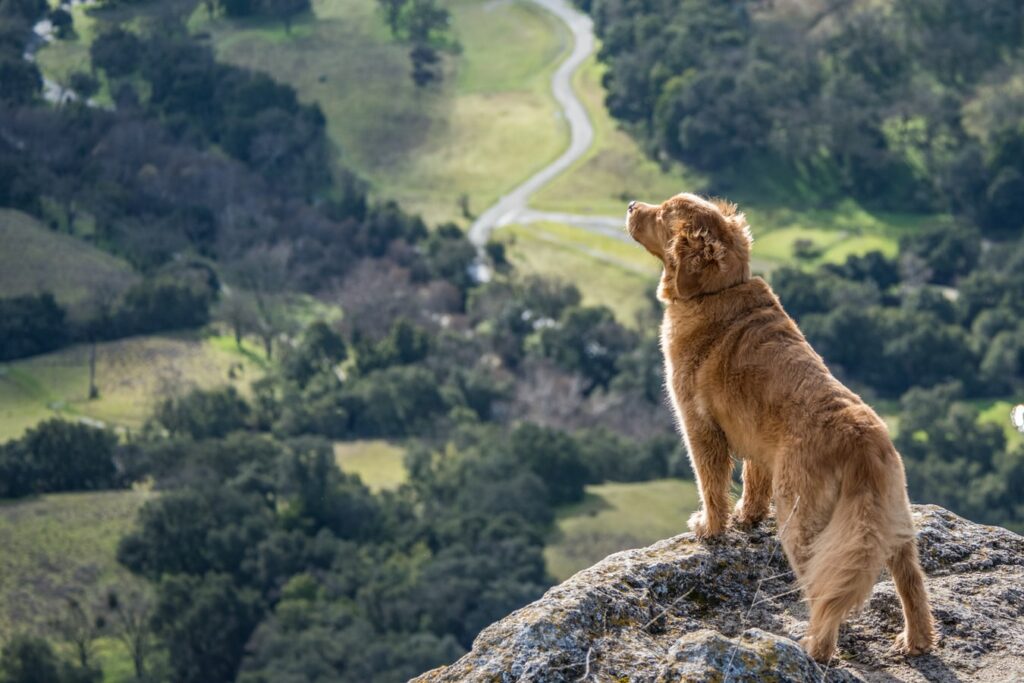 Most dogs need a minimum of 30-60 minutes of exercise a day, though some breeds definitely require more. Similarly, most humans should get at least 35 minutes of moderate aerobic exercise a day, and studies show that health benefits skyrocket when people double that number.
So, what's the connection? Exercise isn't just good for you, it's good for your dog, too. If it's hard to find the motivation to workout—especially in times like these—just take a look at your furry favorite friend and think about what is best for him. Here are seven fun outdoor exercises that you and Fido can do together.
Frisbee
Playing catch or fetch is fun for many dogs, but frisbee can be a version of this game where you also get more exercise. Take your dog to a large, empty field and run around while you toss, or find a nearby disc golf course (most of them are free). Be sure to choose a place with limited distractions, and take treats along with you to reward your dog for all his hard work.
Jogging
Take your dog on a 30-minute jog through your neighborhood or in a local park. If you're trying to social distance, find some good forest trails and explore trail running. Be sure you take plenty of water for the both of you. Some runners prefer to use a lap belt leash so their hands are free for running.
Biking
For well-trained dogs and owners with good coordination, teaching your dog to run alongside your bike can be great cardio exercise for you both. Learning how to do this is a process, so be sure to break it down into teachable steps for your dog. During the warmer months, take your dog early in the morning before the day's heat begins to peak. Early morning is also a good time to teach your dog without a lot of people around.
Paddleboarding
If your dog is a strong swimmer and enjoys the water, standup paddle boarding (SUP) together can be great exercise. Plus, it's a safe activity for people trying to adhere to social distance requirements. Just do your research to make sure the water is safe for your dog. For example, bull dogs, pugs and maltease are all breeds that caution against swimming. Even if your dog is a good swimmer, invest in a dog life vest when out in deep or open water.
Training
Stimulate your dog mentally and physically by practicing training or teaching them new tricks. For example, if your dog pulls the leash while on walks, tackle loose leash walking. Your backyard is a safe place to teach come, stay, wait and sit. If you want more movement for yourself, you can work on other walking commands like side, heel and turn. 
Hiking
Getting out on some trails for a long hike is a great way to shake off the dust of quarantine, for both you and your dog. Find a trail with some elevation or technical aspects so you maximize your cardio. If you live or hike in areas known for ticks, it is important to come prepared. Give your dog flea and tick prevention accessories, like a collar that repels ticks and a fine-tooth comb that can snag even juvenile ticks.
Geocaching
Get outside and go digital with geocaching—it uses a GPS to combine orienteering with scavenger hunts. You and your pup can explore city streets, hike through the woods and traverse any and all kinds of terrain in between. Type the specific coordinates into your smartphone or a GPS device, and follow the course to find a hidden object or cache. 
Getting outside with your dog is good for the both of you, mentally and physically. You'll strengthen your bond while also boosting your health. Plus, your dog will thank you for it!